A better customer experience begins with a great help desk.
Help desks focus on customer service operations and internal IT problem solving and Help-desk Software get the job done.
These software programs provide a way for organizations and teams to respond to customer and internal requests via tickets, dashboards and easy to track systems.
Here are the Best IT Help Desk Software & Tools of 2023:
1. Service Desk by Solarwinds
SolarWinds Service Desk is a modern, top rated choice for organization needing a simple to use but powerful help desk software.
Service Desk makes it easy to manage internal and external customer communications and integrate IT operations to help them.
They focus on automating simple or repetitive tasks while simplifying more complex ones.
This software makes incident and IT asset management easy to track and stores all information in one place.
With options for small to large, complex infrastructures, they have flexible plans for any need and at a competitive price.
Key Features
Ticket routing, approvals, alerts and ticket automation
Escalate issue through internal ITIL framework
Automated workflows
Process and notification rules including SLA breaches and critical events that impact the IT infrastructure
Customizable Benchmarking reports
Configuration Management Database Software (CMDB) – real time data on users, hardware, networks, contracts, business sites, SaaS licensing, and other assets.
Customizable Dashboards that highlight critical metrics that are most important to your team and operations.
Calendar and Scheduler
Employee Service Portal
Help Desk Knowledge Base
IT Asset Life Cycle Management including Procurement Tools to track licensing, maintenance and subscription details in a single location
Reporting
SLA and Software License Management
Service Desk Mobile App
API Access
Price
FREE Fully Functional 30 Day Trial!
Team Plan:
Streamlined Service Desk for smaller teams
Unlimited Requestors
Incident Management, Service Portal, Knowledge Base
$19/month/agent
$.10/month per device
Billed Annually
Business Plan:
All functionality for a growing team
Unlimited Requestors
Incident Management, Service Portal, Knowledge Base, Service Catalog. Change Management, SLA, Groups, Custom Roles, Internationalization
$39/month/agent
$.30/month/device
Billed Annually
Professional Plan:
Customizable service platform to scale the mature IT organization
Unlimited Requestor
All features + custom field forms, advanced automations, network discovery, contract management, license compliance, scheduled reports, API access
$69/month/agent
$.50/month/device
Billed Annually
Download:
https://www.solarwinds.com/service-desk/
Official Site & Info
Developer:
Solarwinds, LLC
2. Web Help Desk
Web Help Desk is a powerful but more traditional help desk solution. It is cloud-based and provides a ticketing and asset management solution that is supported on Mac OS, Web Browsers, and Windows 10.
This solution offers a full ticketing system from creating tickets, to routing, to assigning and tracking. You can escalate tickets and automate them as well.
Other notable features include configurable work flows, asset management and change management.
Web Help Desk is a popular and widely used solution by organizations of any size.
Features
Incident management consolidates, manages, and prioritizes incoming tickets
Service catalog standardizes service request and fulfillment processes
IT Asset Management compiles hardware, software, and PO's
Service portal for users to submit tickets and requests
Approval and change processes
Auto-assign service requests
Reporting, SLA alerts, and customer surveys
Built in tools for system monitoring, event log viewing and network diagnostics
Remote control for Windows, Mac OS X, and Linux Systems
Remote access to support end-users outside the firewall
Centralized Knowledge Base with Web Help Desk
Integrates with Active Directory, LDAP, Microsoft SCCM
Beyond on-premise use, Web Help Desk is available in the AWS Marketplace as a managed hosted solution.
Pricing
14 Day Free Trial Available!
SolarWinds Help Desk is priced per technician:
5 Technicians, Unlimited End Users, $700/License
6-10 Technicians, Unlimited End Users, $695/License
76+ Technicians, Unlimited End Users, $580/License
Download
https://www.webhelpdesk.com/pricing
Official Site & Info
Developer:
Solarwinds, LLC
3. ManageEngine Service Desk Plus
ManageEngine Service Desk Plus is a help desk management platform that includes applications for project management, contract management and ITIL (information technology infrastructure library).
With ManageEngine Service Desk Plus you can dispatch tickets, assign and automate them, and create ticket flows.
This tool is great if you need a more in depth ticketing system as well as project management and contract management. It is a great all-in-one solution designed to establish process automation and support end users.
Features:
Enterprise Service Desk and Incident Management – manage the complete life cycle of tickets, automate ticket workflows
Automatic ticket dispatch
User Surveys and help desk reports
Mobile help desk
Classify, analyze and close problems
IT Project Management – Create projects, manage resources, and track progress
Contract Management
Purchase Order Management
Asset Management – Software, License, PO and IT assets
CMDB
Deploy on Cloud or on Premises

Windows 7,

Windows Vista,

Windows XP,

Linux,

Web browser (OS agnostic),

Windows 2000,

Windows 8
Pricing:
Pricing is not readily available on their website, but you can request a quote here.
Estimated pricing ranges anywhere from $495 to $2,000+ per year. These numbers vary based on technicians and users.
Download:
https://www.manageengine.com/products/service-desk/get-quote.html
4. Freshdesk
Freshdesk was designed to make the help desk process easy and efficient. This award winning cloud-hosted help desk solution is praised for being one of the best in it's class.
With Freshdesk you can streamline your customer conversations in one place, automate repetitive work to save time, collaborate with other teams to resolve issues faster and more efficiently, and do this all in one easy to use system.
This software is designed to meet the needs of any size organization and is a powerful, all in one help desk option that won't disappoint.
Features
Team Inboxes to track and manage incoming support tickets from multiple channels
Custom ticket statuses
Time and event triggered ticketing
Scenario Automation
Canned, per-formatted responses to common questions
Parent-child Ticketing, Shared ticket ownership, team tickets, linked tickets and more
SLA Management – set deadlines for ticket response and resolution times based on business hours or categories
E-mail, Chat, Social Media and Website support options
Customizable dashboards, help desk reports and customer satisfaction ratings
Highly customizable – portal, ticket forms, URL, agent roles, app, and more.
Time Tracking
Knowledge Base
Security – Custom SSL certificates, IP and Network restrictions, identity and access management
Pricing
Sprout Plan – for those just getting started:
100% Free!
Email ticketing, Ticket dispatch, Team Collaboration, Knowledge Base, Ticket Trend report, Social Ticketing
Unlimited agents
Blossom Plan – for small teams:
$15/agent/month billed yearly
Everything in Sprout + Automation, Collision Detection, Marketplace Apps, Help desk In-depth, SLA Management, and Business Hours
Garden Plan – for growing teams:
$29/agent/month billed yearly
Everything in Blossom + Time Tracking, CSAT Surveys, Session Replay, Performance Reports, Multilingual Knowledge Base
Estate Plan – best value for large teams:
$49/agent/month billed yearly
Everything in Garden + Ticket Assignment Automation, Custom Roles, Portal Customization, Enterprise reporting, Multiple SLA's and Timezones, Support Bot
Forest Plan – Enterprise:
$109/agent/month billed yearly
Everything in Estate + Skill-based Ticket Assignment, Sandbox, IP whitelisting, Data Center Location, HIPAA Compliance, Extendable API rate limit
Download
5. HappyFox
HappyFox is a cloud-based help desk and customer support software that is aimed more towards the small businesses.
If you are a small – medium sized business and you are looking for a simple and straight forward ticketing system, without all of the extras that you don't need, then HappyFox is a great option.
HappyFox works just like any other help desk ticketing system but without all of the extra "fluff" that small businesses don't require.
Features
Email Ticketing – email conversion into tickets
Ticket Merging and Escalation
Knowledge Base
Community Forums
Help Desk reporting and Automation
Self Service Portal
SLA Management
Help Desk Customization and Ticket features
Social media integration with Facebook
Supports voice, email, chat, social media, and mobile channels
Asset and Task Management
Over 35 supported languages
iOS, Android, and Windows mobile device compatible
Pricing
All plans can be paid annually or monthly.
Mighty Plan:
$29/agent/month
Import contacts, Canned Actions, Agent Collusion, Round Robin Assignment, SLA Management, Contact groups, Automatic Time Tracker, ticket templates and more
50 GB Storage
Fantastic Plan – best value:
$49/month/agent
Everything in Mighty Plan + Satisfaction surveys, SLA breach notification, Custom ticket queues and more
200 GB Storage
Enterprise Plan:
$69/agent/month
Everything in Fantastic plan + Proactive Agent Collision, Task Management, Asset Management, Scheduled Tickets, Lite Users, Sentiment Analysis and more
500 GB Storage
Enterprise Plus Plan:
$89/month/agent
Everything in Enterprise Plan + Agent Scripting and much more
1024 GB Storage
Download
https://www.happyfox.com/help-desk-price/
6. Zoho Desk
Zoho Desk is a little unique compared to the other help desk software programs in that, it can be used as a fully functional ticketing system or as a real time call center.
Although it doesn't include extra features like some of the other options, it still provides all of the necessities of a customer service/ticketing/help desk system.
With it's robust reporting capabilities, you can track all requests, tickets, and open customer service items to make sure nothing falls through the cracks.
With the help desk module, you can track the productivity of the call center with time reports, conversions and more.
Features
Multichannel ticketing system via email, social media, live chat, telephone, and/or web form.
Call Center Software
Help Desk Essentials – help desk automations, customer happiness ratings
Company-wide collaboration
Customizable reporting and insights
Agent Productivity
Knowledge Base
Priority SLA's
Pricing
Free Plan:
100% Free for up to 3 agents
Professional Plan:
$12/agent/month
Everything in Free + more
Enterprise Plan:
$25/agent/month
Everything in Professional + more
Download
https://www.zoho.com/desk/pricing.html
7. Jira Service Desk
Jira Service Desk is a full service desk "suite" designed with the IT service and customer service organizations in mind.
Employees and customers can use the "self-serve" portal to open and track tickets,  access the knowledge base and keep track of questions and incident responses.
Jira Service Desk was developed on the Jira platform which integrates and works seamlessly with Jira Software.
Features
Robust Self Service Customer Portal where tickets can be created and tracked
Automation of recurring tasks and tickets
Real time updates and collaboration
ITIL templates
Knowledge base
Atlassian Marketplace compatible
JIRA Software integration
Pricing
7 Day FREE trial available!
Cloud Pricing is based on number of users and is billed on a monthly basis:
3 Users for $10/month
10 users for $200/month
50 users for $825/month
100 users for $1,575/month
Visit their site here for more pricing quotes
Self-managed pricing is based on Servers and Data Centers:
One Server – $16,500 one-time payment/50 agents
One Server – $56,900 one-time payment/251+ agents
Data Center – $12,000 per year/50 agents
Visit their site here for more pricing quotes
Download
https://www.atlassian.com/software/jira/service-desk/pricing
8. Cayzu
Cayzu is both a help desk software as well as a customer support platform. Everything is managed from one easy to use cloud-based portal.
Requests can be submitted via multiple channels including e-mail, phone, social media, mobile or the online portal.
Some notable features include their well thought out, easy to use, and feature rich ticketing system.
Tickets can have custom fields, tags, to-do's, attachments and more.
Furthermore, Cayzu is supported globally and can integrate with many different products and apps.
Features
Fast and easy setup, even for non IT professionals
Email Integration including signatures, forwarding and multiple emails
Custom branding, mapping and domain mapping
Full Service, Smart Ticketing System including time tracking against tickets, customizable ticket fields, to-do's, tags, Group ticket assignments, and more.
Automated rules and workflows
Full Service Help Desk API
SLA's
Auto assign and reply
Asset Management
Active Directory Integration
Storage for large attachments
Lots of Apps and Integrations available
Affordable pricing
Pricing
Free Trial Available!
Pricing is not readily available but they offer the option to pay annually and receive a discount.
Estimated pricing for 50 agents ranges from $4/agent/month to $9.38/agent/month making this a more affordable solution that is still feature rich.
Download
https://www.cayzu.com/pricing/
9. Zendesk Support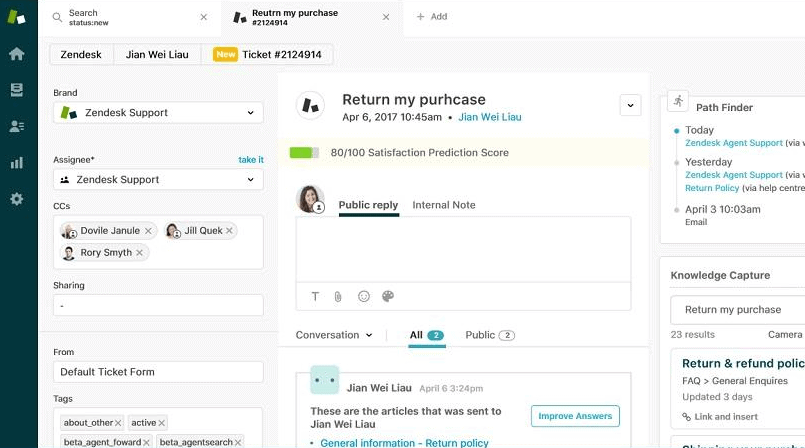 ZenDesk is more than just a help desk and ticketing software. It is also a full CRM system where you can keep track of customers, track processes and workflows, and do all in one utility.
With ZenDesk you can take help desk and customer service to the next level with its comprehensive suite of support apps.
Notable features include their help desk, live chat, knowledge base, call center and a community portal.
The software also has the ability to converts prospects that are visiting your website by allowing you to chat with them in real time.
Features
Full ticketing system – customizable tickets, group rules, automated workflows, serf service ticketing
Full service help desk
Self service customer portal
Support via email, web, phone, chat and social media
Knowledge base including public and private forums
Screencasting
Salesforce, SugarCRM
Over 100 integrations and apps
Open API
Pricing
Free Trials are available!
Pricing is not readily available but you can obtain a quote on their website here.
Download
https://www.zendesk.com/product/pricing/?variant=a
10. ConnectWise
ConnectWise is a business process automation software that offers a variety of different modules including CRM, help desk, ticketing system, project management tools, and more.
It is ideal for technology companies such as IT service providers, developers, software developers, etc.
The ticketing and dispatch system allows you to manage customer support requests and technicians can enter time and expenses against tickets.
With over 300 third-party integrations, ConnectWise can "do-it-all" when it comes to process automation and tracking.
Features
Help Desk Management
Simple ticketing system includes workflow automation, SLA, performance monitoring, recurring tickets, and more.
Dispatch portal
Manages scheduling and dispatch, including notifications of deadlines and overdue tasks
Time sheets and Expenses
Billable time
Invoices and Billing
Procurement
Email Management
Customer CRM
ITIL Process Automation
Project and Change Management
Custom report writer
Over 300 Integrations
Mobile App and Open API
Pricing
Pricing is not readily available on their website but ConnectWise comes with three different plan options: Basic, Standard, and Premium.
You can find full plan details and request a quote here.
Download